David's Mighty Men (GIBORIM) are a collection of unique Christian NFT Trading Cards based off of the warriors who fought alongside the Biblical King David. A list of their names and exploits is given in both 2 Samuel 23:8–39 and 1 Chronicles 11:10–47.
Each Mighty Man is unique with individual characteristics, including faces, headwear, hair, beards, clothing, armor, weapons, shields and more. All Mighty Men are awesome, but some are rarer than others. The Mighty Men are stored on the Polygon Blockchain and minted at Mintable.club for 7 MATIC on the Polygon Blockchain. The Floor Price for purchasing a Rare Mighty Man on OpenSea will be around 0.015 ETH on the Polygon Blockchain.

THE TEAM
Davids Mighty Men NFTs were created by Samuel (SCWatchman) all by himself.
SCWatchman will need a team to make the NFTs into a game.

VERIFIED SMART CONTRACT ADDRESS
0xdf8543b56d208757f1dc26bd2e66980d44e70061

58 RARE NFTs MINTED
FLOOR PRICE 0.015 ETH (Polygon Network)

DAVID'S MIGHTY MEN RARE MINT LIST >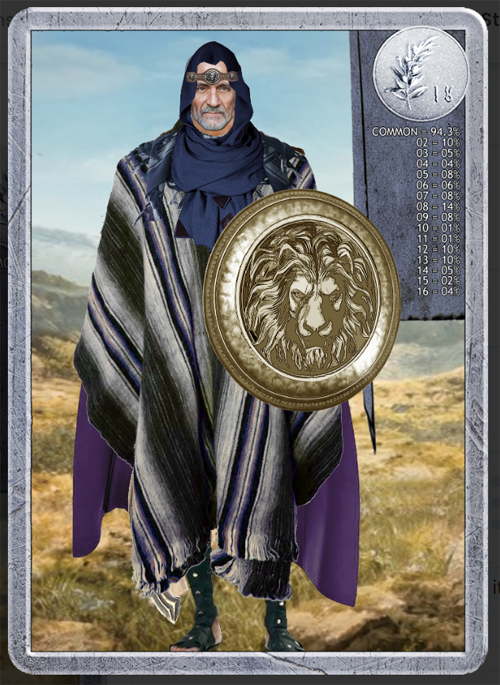 MINT YOUR OWN COMMON NFTs
MINTING PRICE 7 MATIC (Polygon Network)

FIND AN OLD HEBREW NAME FOR YOUR MIGHTY MAN HERE

ROADMAP
Website and Waitlist set up 04/15/2022 ✅
Patreon set up 04/16/2022 ✅
Designing in Photoshop & Mintable 04/17/2022 – 05/14/2022 ✅
MINT 1 MATIC: Public Sale 05/15/2022 – 05/19/2022 ✅
MINT 2-7 MATIC PRICE INCREASE: Public Sale 8/8/2022 – 1/1/2022 ✅ (WE ARE HERE)

Future Plan 1: NFT PVP Game: where players can challenge each other to claim another players NFT.
Future Plan 2: NFT PVE Game: where players can team up to conquer NFT Canaanites & Giants.

FOLLOW THE PROJECT

FUND KING DAVID'S MILITARY

Beqa Level
Thank You
for your support
of the project.
Shekel Level
Receive 1
Common NFT
per month.
Talent Level
Receive 1
Rare NFT
per month.

Please email suggestions to: samuel@scwatchman.space
Other NFT Projects by Samuel (SCWatchman) :